Spain's King Juan Carlos signs abdication law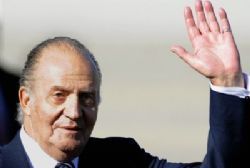 Spain's King Juan Carlos signed into law on Wednesday a piece of legislation enabling his abdication in favor of Crown Prince Felipe.
The law takes effect at midnight Wednesday, hours before the monarch's 46-year-old son is formally proclaimed as King Felipe VI.
Juan Carlos signed the measure during a brief ceremony at the royal palace in Madrid.
Prime Minister Mariano Rajoy added his signature and the departing monarch rose and turned to embrace Felipe.
Juan Carlos was visibly moved when the roughly 150 invited guests burst into applause.
The young daughters of Felipe and his wife, Princess Letizia, came forward to kiss the king and Queen Sofia before the ceremony ended with the playing of Spain's national anthem.
Recommended Reading :
* Spain seeks total legal immunity for Juan Carlos after abdication