Spain's new Podemos politcal party linked to back-handers from Venezuela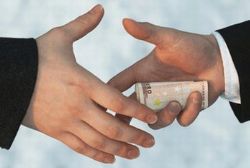 A foundation with ties to the leaders of Podemos, Spain's new leftist party, received at least €3.7 million from the government of deceased Venezuelan leader Hugo Chávez over the course of a decade.
The three main leaders of Podemos - Pablo Iglesias, Íńigo Errejón and Luis Alegre - all sat on the board of trustees of Centro de Estudios Políticos y Sociales (CEPS), which accepted money from the Venezuelan regime from 2002 to 2012, according to official records kept at the Culture Ministry's foundations register.
On some years, the payments for political advisory work represented more than 80% of revenues at a foundation that describes itself as "not-for-profit" and was created to "promote the redistribution of wealth."
The Spanish government and the regional government of Valencia are also clients of CEPS.
Podemos became the 4th-most-voted political force in Spain in European elections held on May 25, despite only being registered as a party 3 months earlier. Many of its voters are young and have leftist affinities, although Podemos leaders have denied accusations of left-wing populism directed at them by mainstream parties.
Party chief Pablo Iglesias, a politics lecturer who appears regularly on Spanish television, worked for the foundation in 2006 and 2007 while based in Venezuela. Since 2008, his name has been included on the list of CEPS board members. His CV states that he was "in charge of strategic analysis for the Venezuelan presidency with the CEPS foundation."
Errejón, Podemos' campaign chief, was a high-ranking official at CEPS and signed the accounts for several years. Alegre, Podemos' number-two figure, was also a top member of CEPS. All three of them declined to offer EL PAÍS detailed information about CEPS' accounts and its agreements with third parties.
The only available version of events is an interview that Pablo Iglesias granted this newspaper earlier this week, denying any links between funding for CEPS and funding for Podemos.
"There are many consultants working in Venezuela for opposition parties and they may make €6,000, €7,000, €8,000 a month. No CEPS consultant has ever made anything like that," he said.
An analysis of CEPS' accounts between 2002 and 2012 shows that the government of Hugo Chávez was always the foundation's best, if not its only, client. A large chunk of the money (€1.6 million) was paid for direct advisory work for Chávez. The foundation also earned money for helping introduce a social security system in Venezuela, and charged other government agencies for classes on "globalization" and measurements of Venezuelans' "socioeconomic perceptions."
The Venezuelan government also signed several agreements with the foundation, which can claim significant tax breaks on its income. The 2012 accounts for CEPS show that the foundation did not pay tax "on profits."
As for the way the money is shared out, the foundation's charter establishes that "the beneficiaries of CEPS are all the people in a condition to participate in the activities organized by the foundation."
Recommended Reading :
* Spain's PSOE leader quits after party's worst ever election