Spain marks new record for international tourism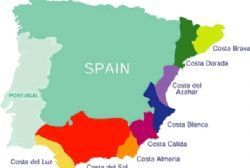 Spain welcomed a record 21.4 million international visitors in the first 5 months of 2014, an increase of 8.2% over the same period last year, according to a report issued by the Ministry of Industry, Energy and Tourism on Monday.
The figure is based on the ministry's monthly survey of tourist arrivals at international ports of entry.
The month of May alone brought 6.8 million international tourists arrive, up 5.7% on May 2013.
Britain remained the leading source, with 4.9 million British nationals visiting Spain between Jan. 1 and May 31, which represents a gain of 6.9% from the same period in 2013.
The number of international visitors traveling to the Canary Islands - the Spanish archipelago off the coast of West Africa - climbed 13.1% to 4.8 million, while the southern mainland region of Andalusia received 2.8 million tourists from abroad.
Recommended Reading :
* Spain 2nd world destination for shopping tourism in 2012
* Spain sees 10.1 Mln foreign tourists in Q1 of 2014