Felipe VI welcomes Spain's Gay groups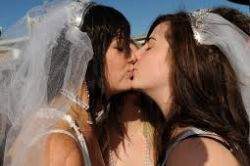 New king, new times, new guests. Gay groups were celebrating on Tuesday after holding their first ever official meeting with a Spanish head of state.
"The king and queen received us on their first week on the job, while the deputy prime minister did not even return our calls on the two occasions we requested a meeting with her," said Boti García, president of the National Federation of Lesbians, Gays, Transsexuals and Bisexuals.
"This invitation is a very good way to begin a reign," added José María Núñez, president of Fundación Triángulo.
Núñez highlighted that the invitation from Spain's King Felipe VI "sends out a message of normality and integration" for the gay community.
The gathering took place inside the Pardo Palace, the same place where, back in 1954, dictator Francisco Franco signed an amendment to a law with the goal of including homosexuals on the list of "dangerous" individuals, along with "ruffians and procurers."
Both Núñez and García reminded King Felipe and Queen Letizia that there were still "many forms of homophobia" inside and outside Spain. They also presented the monarchs with children's stories teaching tolerance of the gay community.
The president of Fundación Triángulo stressed that Queen Letizia in particular demonstrated "intense empathy" throughout the meeting.
García and Núñez were part of a delegation of 350 representatives of non-profit and civil society groups who met the king and queen on Tuesday. These also included support groups for immigrants, battered women and victims of rare diseases, as well as the Red Cross, the Food Bank and Unicef.
The new monarchs had already met with representatives of victims of terrorism on Saturday.
"We are especially interested in having one of our first events be this gathering with a broad – if incomplete – representation of people from public agencies, non-profits and associations that are generously putting time and effort into helping the weakest and most vulnerable members of society," the king told them. "You are the image of solidarity in Spain."
Recommended Reading :
* Spain most 'Gay Friendly' Country