Spain's annual inflation stands at 0.1% end-June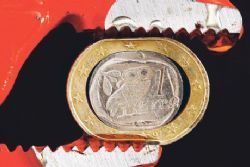 The Spanish annual inflation rate stood at 0.1% in May, according to advanced data of the Consumer Price Index (CPI) published on Friday by the National Institute of Statistics (INE).
The rate was 0.1% lower than the annual inflation rate of May, although the INE will confirm this data on July 11 when it provides more information about the evolution of prices.
The INE said that the difference between May's and June's annual inflation rate was due to variations in prices of food, non-alcoholic drinks and electricity.
Meanwhile, on a month-to-month basis, Spain's inflation rate registered no variation in comparison with May.
Recommended Reading :
* Spain's economy grows at fastest pace in 6 years