Foreigners resident in Spain down 7.82% on 2012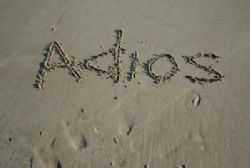 The number of people in Spain has declined for the second year running for the first time since the current statistical series began in 1971. One of the main reasons for the fall is the lower number of foreigners living in the country. A total of 547,890 people left Spain during 2013, of whom 79,306 were Spanish, according to a report released by the National Statistics Institute (INE) on Monday.
During 2013, the number of foreigners living in the country fell 7.8% to 4,676,022 as a result of the combined effect of emigration and people acquiring Spanish nationality.
The migratory balance – i.e. the difference between the number of people who arrived in Spain and those who left – was negative, coming in at 256,849. A total of 291,041 people arrived in Spain last year from abroad, while 547,890 left. That figure was up 80.2% on last year.
While all nationalities saw negative migratory balance figures last year, the biggest reductions in relative terms were seen in the Peruvian community, which lost 23.76% of its total, followed by those of Colombia (22.75%), Bolivia (22.22%), Ecuador (20.96%) and Argentina (15.2%).
This, combined with the fact that the number of births minus deaths came in last year at 36,719 people, means that the fall in population already seen in 2012 continues to gain pace. In 2012, the number of inhabitants in Spain fell 0.19%, whereas in 2013 the figure was at 0.47%. Spain's population was at its highest for the decade at the end of 2011, when it came in at 46,818,216 inhabitants. Currently, there are 46,507,760 people living in Spain, which is 0.4% lower than at the start of 2013.
Emigration and the adoption of Spanish nationality – 230,581 foreigners become Spaniards last year – saw the total number of non-Spaniards living in the country fall by 7.82% at the end of 2013, leaving a total of 4,676,022 foreign residents in the country.