Spain's Telefonica buys Mediaset Espana stake in Canal+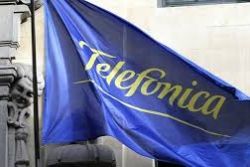 Telefonica said on Friday it had agreed to buy the 22% stake held by Mediaset Espana in pay-TV firm Distribuidora de Television, giving full ownership of the TV firm to the telecoms group.
Spanish media group Prisa in May agreed to sell 56% of DTS, known as Canal+ in Spain, to Telefonica, which already held 22% of the company.
Mediaset Espana said in a statement the sale of its stake was worth 295 million euros. It will also receive 30 million euros for giving up its preferential right to acquire Prisa's stake in DTS.
An additional 10 million euros will be paid by Telefonica to Mediaset Espana when the telecoms group closes the acquisition of Prisa's stake and potentially another 30 million euros depending on how many new clients sign up to the pay-TV service over the next 4 years.
Mediaset Espana said it was also looking at various alternatives to buy back shares in order to compensate shareholders for a capital increase that took place when the stake was bought in 2009.
Recommended Reading :
* Spain's Telefonica to sell Electricity