Spain's unemployment plummets in June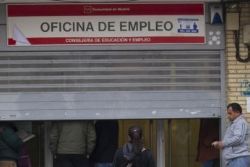 The number of people registered as unemployed in Spain fell by 122,684 people in June in comparison with May, which meant a 2.68% fall, official figures showed on Wednesday.
According to data published by the Ministry of Employment and Social Security, the total number of people unemployed fell to 4.44 million people in the country, which meant a 6.59% fall in comparison with a year ago.
The number of people unemployed increased by 4,658 in the agriculture sector, while falling by 15,510 people in the industry sector, by 19,141 people in the construction sector and by 83,605 people in the services sector.
The number of people affiliated to the Social Security system significantly increased in the hospitality sector due to the peak tourist season.
The ministry reported that the number of men unemployed fell by 71,297 people to 2,117,045, while the number of women unemployed decreased by 51,387 people to 2,332,656.
Recommended Reading :
* Spain sees unemployment fall in May
Spanish State Secretary for Employment Engracia Hidalgo highlighted the fact that the number of people out of work in the country fell by 251,637 people between January and June.