Murcia to operate both San Javier AND Corvera until 2016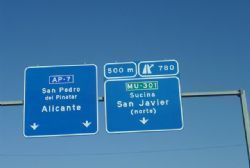 The Region of Murcia will see two airports in operation between 2014 and 2016.
Minister of Development Manuel Campos told the regional assembly last week how Corvera Airport will be opened before the end of 2014, however San Javier airport can not be closed before the end of 2016.
According to Campos, the smaller and older airport will not be closed sooner as the Spanish Airports Authority - AENA - will be required to operate the facility until such a time in order to justify the EU funding they received for development of the airport - specifically the EU25 Mln runway extension - in 2011.
Meanwhile, the decision by the European Commission to permit the opening of Corvera airport is due to be made later in July, with the legalities of the EU177 Mln loan guarantee by the regional government being under scrutiny.
EC approval of the loan guarantee would essentially allow the concession holder of Corvera airport, Aeromur, to guarantee their repayments between 2014 and 2023, and with a commitment to make repayments up to 2050 with an interest rate of 4.87%.
None of the major airlines currently flying into San Javier Airport have made any reference to when - or if - they will transfer operations to Corvera Airport.
Recommended Reading :
* EU changes airport funding rules : lookout Corvera !
* Murcia "Has Lied" over Corvera Airport