Paramount Murcia gains 16Mln EU subsidy, new virtual tour released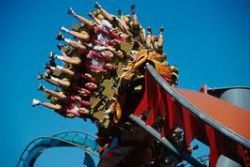 A new and updated virtual tour of the Paramount Pictures theme park at Alhama de Murcia has been released.
The quality and production of the 3Minute 20 second clip may not be as clear and professional as the original - and with the clip not being shown (or mentioned) on the official website of Premursa - the Promoter and Developer of the park, however the details shown are interesting nonetheless.
The simulated video clip - presumably uploaded by an enthusiastic follower - guides the viewer through many of the park's areas and attractions, and through the Adventure; Wild West; Futuristic and Enchanted zones, which will include themed attractions from movies such as Grease, the Godfather and Star Trek.
Earlier last week, Premursa also announced that they had been successful in obtaining funding from the Regional Incentives Board of the Ministry of Works & Finance, in obtaining an EU subsidy to the value of almost EU17 Mln.
Latest estimations are that the park will open to the public sometime between December 2014 and January 2016.
Recommended Reading :
* Paramount release further details of Murcia theme park
* Paramount London : What lessons can Spain and Murcia learn ?