Near-miss at Barcelona airport caught on video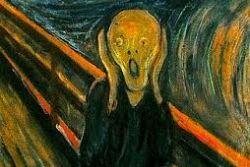 A dramatic near-miss has been caught on video between two Aircraft at Barcelona's El Prat Airport.
The video clip shows the approach of a Boeing 767 inbound from Moscow as it is about to touch down on the runway, when an Airbus A340 bound for Argentina suddenly taxis across it's line of descent.
The Pilots managed to take last-minute evasive action to avoid collision.
Captain John Holmes, flight training manager at Ansett Aviation Training said there were three possible explanations for the error :
"The instructions to the A340 possibly were misunderstood by the captain, or they might not have heard or acknowledged the instructions, or there may have been no instruction issued from the control tower," he said.
Captain Holmes said normally a "hold short" instruction would be issued to the taxiing aircraft, ordering the pilots to stop the plane and not pass on to the runway.
Captain Holmes said the pilots on board the Utair plane would have had a clear view of what was happening and would have been ready with their hands on the throttle to abort the landing and perform a go-around - a very common procedure that is regularly practiced by pilots.
In a typical show of Spanish bravado, the airport's administrators played down the situation and claimed the planes were exactly where they were supposed to be and there was enough distance between them.