Spain's Tank Budget "Squeezing Budget" : UPyD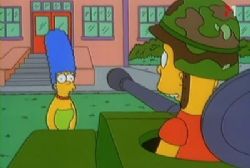 Spain's EU30 Bln plan to buy heavy armament, including Krauss-Maffei Wegmann GmbH's Leopard battle tanks, will put the country's defense budget under pressure, according to a report from opposition party UPyD.
The payments on 19 programs for purchasing military equipment will double from almost EU1 Bln per year in 2014 and 2015, to as much as EU2.1 Bln in 2020, UPyD said in a report citing data from the Defense Ministry. That compares with an annual defense budget of EU9 Bln per year, the report said.
Defense Minister Pedro Morenes said last year he'd reached a deal with companies including Airbus Group, BAE System and Finmeccanica to extend the time frame for payments from 2025 till 2030, reducing the annual bill in the initial years while increasing the total cost. Spain is under scrutiny from the EU's Excessive Deficit Procedure, reducing the government's room for maneuver on spending.
The Defense Ministry's finances "face a deterioration due to the coming payments," Irene Lozano, UPyD's spokeswoman on the Spanish Parliament's Defense Committee, said in an interview today. "We may end up with an ultramodern army but with little budget for training."
A spokesman at the Defense Ministry in Madrid didn't provide a comment when contacted by Bloomberg.
While most of the defense spending was agreed between 1997 and 2004, more than EU22 Bln, out of EU29.5 Bln, was still due to be paid at the end of 2013, according to the report written by Lozano and defense industry analyst Bernardo Navazo.
Spain spends 1% of its GDP on defense, according to European Defense Agency data. That compares with 1.9% in France and 2.3% in the U.K.
Recommended Reading :
* Catalonia calls for separate army to Spain