Over 1,000 Syrians now in Spain illegally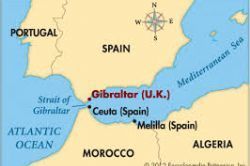 Over a 1,000 illegal Syrian immigrants have used forged documents to gain access to Spain's North African city, Melilla, during the first 6 months of this year, according to a report by EFE.
A Moroccan security source told the news agency that the Moroccan border authorities in Melilla arrest Syrian immigrants trying to enter the city using forged Moroccan passports on a daily basis.
The source, who spoke on condition of anonymity, said that many immigrants live in the city of Nador, in the north-east of Morocco adjacent to Melilla, and try to breach Melilla in coordination with illegal human trafficking networks.
During February 2014, the Melilla border crossing authorities thwarted two infiltration attempts by more than 300 Syrian immigrants who tried to storm the crossing en masse.
The Spanish authorities in Melilla reinforced its security presence at border crossings with Morocco fearing the growing illegal immigration and human trafficking incidents during the summer season.
Moroccan residents of the cities of Nador and Tetouan in northern Morocco do not need to obtain a visa to enter the cities of Ceuta and Melilla.
Morocco refuses to recognise the legitimacy of Spanish rule on the cities of Ceuta and Melilla and considers them an integral part of Moroccan territory. Rabat demands Madrid enter into direct negotiations with the hope of retrieving the two cities.
Recommended Reading :
* Immigrants moved to mainland Spain after Melilla break-in