Spain Needs More Austerity Says IMF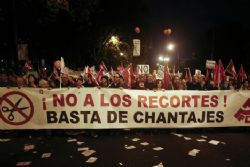 The International Monetary Fund has said Spain will need to introduce MORE austerity to increase revenues and offset its proposed tax cuts announced last month.
Spanish Prime Minister Mariano Rajoy has pledged massive cuts to income tax and corporate taxation from January 2015 in a move many have criticised as merely a publicity stunt to win favour in the upcoming general elections.
Ignoring calls by the IMF and EU to increase indirect taxes and close loopholes, Rajoy and his ruling conservative party, The Partido Popular, are pressing ahead despite unemployment being the highest in Europe and the budget deficit being well beyond its EU set targets.
Spain narrowly avoided a full blown joint IMF and EU bailout after the partial collapse of it's banking sector. Bankia, the financial institution setup to amalgamate a number of smaller banking institutions and at the centre of Spain's banking sector woes, called upon the government for a €19 BILLION cash injection to stave off collapse.
At the time, Rajoy refused to receive a direct bailout from the IMF and EU despite repeated calls from international economic organisations to do so.
Instead, Rajoy managed to convince the EU to inject billions of Euros into the government so it could shore up the financial sector. Effectively a bailout, but not officially termed as a bailout.
As Spain fast approaches its annual summer holiday season shutdown, Budget Minister Cristobal Montoro attempted to deflect the seriousness of the situation stating that the government's plans are in line with Spain's commitment to tackling the EU's fourth large budget deficit.