Spain mulls Animal Protection Legislation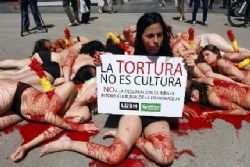 Reports suggesting that Spain was seeking to introduce laws to ban the sale of cats and dogs in pet shops have been played down as it mulls ways to introduce animal protection legislation.
According to proposed legislation, the government it seems had been looking to ban the sale of certain animals in an attempt to reduce the number of incidents of pet abandonments and neglect by pet owners.
However, Agriculture minister Isabel García Tejerina who was said to be considering the proposal has played down the draft legislation stating the government is merely seeking regulation.
Under proposals, the government would introduce regulation applicable to pet shop owners, breeders and owners, believed to come in the form of licensing.
Spain has a poor animal rights record and has the highest level of animal neglect amongst its European partners. More than 200 pet abandonments occur every day and that figure rises into the thousands during August as disillusioned pet owners do not know what to do with their pets when they want to go on holiday.
Similarly, pet rescue organisations believe many abandoned pets are the result of Christmas presents losing their appeal once summer comes around.
Critics have slammed the proposals as an attempt to raise its animal cruelty profile abroad saying that should the proposals be passed into law it wouldn't be properly policed or enforced with so much austerity currently implemented.
In contrast, the UK's regulation of pets and holding their owners accountable is by far and beyond the proposals being suggested in Spain. Hefty fines are dished out to those in breach of the law and in some cases prison sentences. The RSPCA is responsible for enforcing laws designed to protect animals and are almost always backed up by the Police when issuing enforcement notices.
Whilst the Spanish government considers introducing the proposal to protect animals, it is extremely unlikely to apply to bull fighting or fiestas involving bulls. A pastime the government firmly stands behind.
The exact wording of the proposal and how it will affect pet owners and sellers is yet to be decided.
Recommended Reading :
* Spain's San Isidro : Bulls 3 Matadors 0
* 13,000 Bulls killed 'for sport' in Spain each year