Catalan language revival fuels backlash in Spain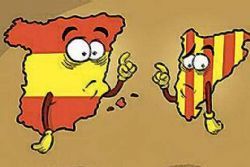 Francesca Munoz, the principal at Sant Miquel primary school near Barcelona, is fighting a linguistic crusade that has fuelled a remarkable recovery of the local Catalan tongue – and of the region's secessionist movement.
For 30 years, public schools in Spain's Catalonia region have taught most subjects in Catalan, not the national Castilian Spanish language.
There are now some 10 million Catalan speakers in or near the region bordering France and the Mediterranean, putting the language in a league with Swedish and Greek after it was repressed under the 1939-1975 dictatorship of Francisco Franco.
"We feel so proud to have achieved this, but we can't relax now. It's still a daily battle," says Munoz, who led her school's transition to Catalan three decades ago, when all the teachers were retrained.
Such is the strength of the Catalan renaissance that it is prompting a backlash among some parents concerned their children are getting short-changed on Spanish, the world's second-most spoken language by native speakers after Mandarin.
These parents, worried that many schools now give only 3 hours of Spanish a week, have support from the centre-right central government in Madrid, which passed an education law last year that will force the Catalan school system to provide more hours in Spanish if parents petition for it.
The nascent movement for more Spanish teaching has only hardened supporters of the Catalan language – and of the wealthy region's independence drive. Catalonia's secessionist movement has gained momentum during Spain's recent economic crisis as taxpayers in the wealthy region complained they were financing poorer areas of the country.
"We need our own country in order to protect our language," Irene Rigau, education superintendent for Catalonia, said in an interview in her office in Barcelona last month.
Opinion polls show that half of Catalonia's 7.6 million residents want independence, and regional leader Artur Mas wants to hold a plebiscite on secession in November, 2 months after Scotland votes on leaving Great Britain. But the Catalonia vote is not likely to happen, because it is expected to be declared unconstitutional.
REVIVING A LANGUAGE
Franco imposed Spanish-only schooling across the country. The result was that in the 1970s, Catalan – a centuries-old Romance language related to Spanish, French and Italian - was spoken mostly among family and friends.
But when Spain restored democracy in 1978, a new constitution gave Catalonia and other regions control over their education and health systems. Gradually, it beefed up teaching in Catalan.
Catalan has also become the language of the local government here and of businesses. There has been an intense government campaign to promote product labels and signs in shops in Catalan. Public sector jobs demand Catalan proficiency. Half of theatre productions in Catalonia are in Catalan, and the biggest newspaper, La Vanguardia, started a Catalan edition 3 years ago that now accounts for 45% of its print sales. In the northern areas of Catalonia, such as Girona, Castilian is little-used.
Educators say schooling in Catalan has been a social integrator for children of millions of immigrants from poorer regions of Spain who arrived in the '60s and '70s who would otherwise be isolated in a Spanish-speaking lower class.
Language educators from other countries look to Catalonia as an example but for some local parents the system isn't working.
Ana Losada last year formed the Assembly for Bilingual Education, a group that is helping parents to petition schools in Catalonia to adopt a 50-50 Spanish-Catalan teaching system. Losada grew up in Catalonia and says she was well-served by a mix of Spanish and Catalan in the schools in the 1980s, when the system was still transitioning to Catalan-only. However, she says Spanish has lost so much ground that now she worries her 6-year-old girl won't learn the language properly.
"They argue that people learn Spanish as well as Catalan, but it's not true. We are hearing from university professors that the level of Spanish is deficient," says Losada, who says her group is not political and does not have a stance on the independence issue. "It's impossible to teach it adequately in only three hours a week."
Education Superintendent Rigau says the full-immersion system has not penalized Spanish proficiency and that the vast majority of families are happy with it because their children end up being bilingual.
She speaks Spanish with a deep Catalan accent and says a half-and-half system is a bad idea, because the smaller language of Catalan has to be over-protected or it will disappear. Many teenagers, for instance, turn away from Catalan to plug into pop-culture references that are mostly in Spanish.
At the Sant Miquel school near cosmopolitan Barcelona, most children come from Spanish-speaking homes. The students say goodbye to their parents in Spanish as they are dropped off, but once they enter the building, the teachers speak to them only in Catalan, and the walls are decorated with science, history and music material in Catalan. On the wall of a first-grade classroom the schedule shows two periods a week dedicated to Spanish and they do all their classwork in Catalan.
However, the children revert to Spanish on the playground, where they are free to speak whatever language they want.
"We can't let our guard down because if you do Castilian Spanish just takes over," says Carmen Blanco, head teacher of the school.
Under the new education law, if a school cannot provide more Spanish-language curriculum for parents who demand it, the regional government must pay for the children to attend a private school with more Spanish. It is unclear how the law will be implemented, because the government has not set out detailed regulations yet and because there are few Spanish-language private schools in Catalonia.
"We just want to support those that want more Castilian. We have to make sure there's bilingualism," said a high-level advisor to PM Mariano Rajoy, who did not want to be named due to the sensitivity of the issue.
Kathryn Woolard, an anthropologist from University of California, San Diego who has studied language and identity in Catalonia since the 1980s, says policymakers should avoid making the region the site of a linguistic tug-of-war.
"There is a new kind of bilingual identity where it doesn't mean you are rejecting either language," she says.
Spain's new monarch King Felipe VI, who took the throne in June, may appear an unlikely candidate to heal divisions. However, Felipe, who takes over at a time when the popularity of the Spanish monarchy has plummeted, is a rare member of Madrid's elite who has studied Catalan.
He paraded his fluency with a speech in Catalan when he visited Girona on his first official trip. In his remarks, he said the region and the rest of Spain needed to share "respect, understanding and co-existence."
Recommended Reading :
* Education reform protects Spanish more than other official languages
* Court enforces teaching of Castillian in Catalan schools