Korea to hold forum against illegal fishing in Spain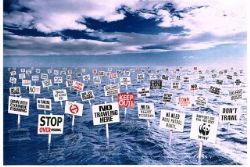 The Korea Maritime Institute (KMI), under the Ministry of Oceans and Fisheries, will hold a forum, titled "2014 Korea Ocean Week," to highlight Seoul's resolve to root out illegal fishing, in Las Palmas, Spain.
The forum comes as the EU's decision whether to include it as an illegal, unreported and unregulated (IUU) nation is pending.
During the two-day meeting, July 16-17, some 500 officials from the Food and Agriculture Organization and the Organization for Economic Cooperation and Development, as well as fisheries-related government officials from West African countries will participate.
"It is the largest-ever fisheries related forum to be held overseas. It is meaningful that West African counties participate, when Korean fishing vessels were accused of overfishing near those nations," said Choi Jae-sun, director general of KMI.
On July 16, its organizer, KMI, will proclaim Korea's effort to comply with international maritime regulations and discuss ways to cooperate with such nations as Spain, Guinea and Senegal in forming international regulations to preserve fish stocks there.
"Previously those regulations were just recommendations, but now they are binding. The EU and the United States make regulations and non-compliant nations will have to face sanctions," said another official.
The highlight of the event will be a "Borderless Fish Farm" that KMI suggested to establish on the last day of the event.
"It is a kind of ODA (official development assistance), through which the KMI will provide its expertise to African nations in relieving poverty and famine that cloud the region," Choi added.
Korean fishing companies has been accused of repetitively engaging in illegal fishing in West African waters, while the fisheries ministry has been too lenient to those illegal vessels.
Last month, a group of EU officials came here before the economic block finalizes the "illegal fishing nation" status it imposed on Korea last November.
Korea was designated as a preliminary IUU country along with Ghana and Curacao in the Netherlands Antilles.
Previously the decision was estimated to be delivered by the end of June and announced in September. But according to the fisheries ministry, no decision has been made.
Once officially designated as an IUU country, the nation will have to face substantial disadvantages in trade. All fishery exports to EU nations will be banned and Korean vessels' access to EU ports limited.
Recommended Reading :
* Spain replaces UK as Iceland's largest fish market