UK summons Spanish envoy over 'provocative' Gibraltar naval activity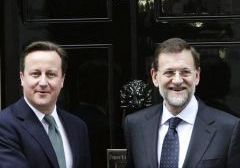 The British government said on Thursday it had summoned Spain's ambassador to protest over what it described as "provocative" activity by the Spanish navy near the disputed territory of Gibraltar.
Britain, which runs the rocky outcrop off Spain's southern coast, said a Spanish navy vessel had tried to redirect two commercial vessels heading to and from the Port of Gibraltar on Wednesday on the grounds that they were in Spanish waters.
Britain disputed that, saying the vessels were in international waters.
"This represents a cynical attempt by the Spanish government to disrupt Gibraltar's economy, in contravention of international law," said David Lidington, Britain's minister for Europe. "I condemn this provocative activity and urge the Spanish government to ensure that it is not repeated."
The incident is the latest in a long line of diplomatic spats between Britain and Spain over Gibraltar, which Madrid ceded to Britain around 300 years ago, but that the Spanish authorities now want to reclaim.
It was the fifth time the Spanish ambassador in London has been publicly summoned by Britain over Gibraltar since the current Spanish government took office in December 2011.
Recommended Reading :
* Cameron should grow 'Cojones' over Gibraltar feud with Spain