Oil spill affects natural area in Canaries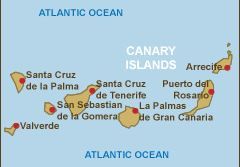 Several oil stains were spotted on Wednesday afternoon near the beach of El Cabrón, on the island of Gran Canaria. This is an area known for its diverse marine wildlife and is popular with divers.
The origin of the slick is still unclear, although authorities think that it probably came from a ship that cleaned out its bilge on the portion of international waters located between the islands of Gran Canaria and Fuerteventura.
The president of the Canary Islands, Paulino Rivero, visited the area on Thursday morning to see the extent of the damage and to talk to the volunteers and Civil Guard officers who are cleaning up the coastline.
Preliminary damage assessments talked about one kilometer of coastline affected by the spill. Bathing areas have apparently not been damaged.
The oil accumulated mostly in the diving area known as Punta La Sal, which is not accessible from land. The mayor of the nearby town of Agüimes, Antonio Morales, told the local press that there are two large pockets of oil measuring 200 to 300 linear meters, inside an area that will one day be part of the future nature preseve of Arinaga.
In April of this year, two other beaches in the south of the island were affected by another oil spill.
The news follows Tuesday's revelations that Repsol could begin oil exploration off the coast of the Canary Islands as early as October of this year.
Recommended Reading :
* Spain's Repsol could start drilling off Canary Islands in October