Spain riled with British attitude over Gibraltar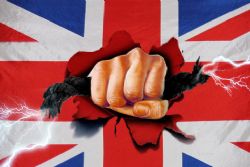 Spain's foreign ministry on Friday summoned the British envoy in Madrid to express the "most energetic protest" over London's response to a "so-called incident" in waters near Gibraltar. The ministry's director-general of foreign policy, Ignacio Ybañez, called in British Ambassador Simon Manley a day after Spain's envoy in London was summoned to Britain's Foreign and Commonwealth Office.
summoning of an ambassador to register a formal protest is a "very serious" act that "should be reserved for especially serious situations," the Spanish Foreign Ministry said Friday.
The FCO summoned Ambassador Federico Trillo on Thursday to protest the actions of Spanish navy ships in waters near the British Crown Colony of Gibraltar.
Spanish navy units tried to redirect two commercial vessels that were arriving and departing at the port of Gibraltar, claiming that they were in Spain's waters, according to the FCO, which insisted the cargo ships were in international waters.
Spain's foreign ministry said Friday that what Britain described as an incident was nothing more than "the routine action of a Spanish navy ship in Spanish waters."
London's protest constitutes "unacceptable intervention" in the Spanish navy's "routine activities" in the Iberian nation's territorial waters, the foreign ministry said.
The Gibraltarians claim jurisdiction over the waters within three nautical miles of the Rock, but Spain says that the 1713 Treaty of Utrecht ceding Gibraltar to London includes only the port waters.
Long-standing tensions between Spain and Britain over Gibraltar flared last summer when Madrid imposed stepped-up border checks that led to hours-long waits for people entering and leaving the Rock.
The tighter border checks came after the local Gibraltar administration dropped 70 concrete blocks into the Mediterranean with the aim of forming an artificial reef.
Madrid says the reef project violates EU environmental regulations and threatens the livelihoods of Spanish fishermen.
Recommended Reading :
* UK summons Spanish envoy over provocative Gibraltar naval activity
* Spanish regional leader : "Policy on Gibraltar is going nowhere"