Rajoy's tax cuts seen threatening country's deficit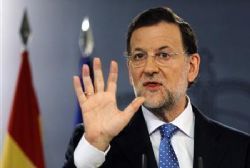 Spain is testing financial markets' patience with tax cuts that threaten to swell its deficit, just as concerns over neighbouring Portugal are already straining confidence in the region.
More than 60% of economists in a Bloomberg News survey said the income and corporate tax cuts planned by Prime Minister Mariano Rajoy undermine efforts to tackle the euro region's 4th-largest budget deficit and a debt burden that is almost 100% of GDP.
"The government will need to specify further savings down the line," Timo del Carpio, an economist at RBC Capital Markets in London, said in a telephone interview. "While the macroeconomic picture is steadily improving, it would take very little in the way of a deflation shock or weaker-than-expected growth to put Spain's debt ratio on a rising path."
2 years after Spain came close to losing access to markets as investors weighed the odds of a euro breakup, the gap between Spanish and German borrowing costs has nearly halved. Still, the yield on its 10-year benchmark bond rose to a 5- week high last week as Portugal's Espírito Santo International missed payments on commercial paper, signaling Spanish securities aren't immune to changes in investors' mood.
>The yield on Spain's 10-year bond fell by seven basis points to 2.64% at 4:11pm in Madrid on Wednesday, compared with 2.85% on July 11 and a euro-era record of 7.75% in July 2012. The spread with similar dated German bonds narrowed to 145 basis points from 151 basis points on Tuesday.
"Recent tensions in rates show that confidence can't be taken for granted," said Paris-based Natixis strategist Jean-François Robin. "Spain would be better off decreasing its deficit or at least maintaining the current level given that debt sustainability is as much about the outstanding amount to be repaid as the cost of refinancing."
Rajoy, who faces a general election next year, announced his tax plan on June 20, less than one month after his ruling Partido Popular lost 8 seats, or a third of its lawmakers, in the European Parliament. Protest movement Podemos won 5 seats.
Rajoy said the overhaul - which includes a 13% average reduction in tax for those earning less than EU24,000 - was needed as it was time to lift the burden on Spaniards who have been living with austerity since 2010.
As his government sought a European bailout to clean up banks, it also implemented the deepest austerity programme in the nation's democratic history. Spending cuts triggered demonstrations against politicians and banks, which in turn gave rise to Podemos.
While the IMF last week warned that budget cuts will be needed to compensate the loss of revenue, Deputy PM Soraya Saenz de Santamaría ruled out such steps on July 11. She said tax cuts including a reduction in corporate tax to 28 percent from 30 percent will consolidate growth, as the economy recovers from a six-year slump that left a quarter of the workforce unemployed.
"The government's plan lowers taxes on future activity and relies on growth to increase revenues, it won't be enough," said Rubén Segura-Cayuela, a former Bank of Spain economist who works at Bank of America Merrill Lynch in London. "It may be seen as negative if the deficit fails to come down, together with the risk of a fragmented parliament after 2015 elections."
Economists expect the euro region's 4th-largest economy to expand 0.4% in Q2. Spain's 2nd recession since 2008 ended last year.
The end of the recession helped shrink Spain's budget gap to 7.0% of GDP last year, compared with about 10% in the 4 previous years. While revenue continued to rise through May, higher debt-servicing costs meant the central government's deficit was little changed from the year before. Interest payments accounted for 17% of spending, compared with 10% in 2010.
Even so, Spain's average issuance cost was down to 1.87% on June 30 from an average 2.45% in 2013, the Economy Ministry said yesterday. The Treasury last month sold three-year bonds to yield 0.876% compared with 3% or more in 2006, when the economy expanded at an annual rate of 4.0% and the debt burden was less than 40 % of GDP.
"One can see room for concern should Spain pursue too expansive a fiscal stance," said Richard McGuire, head of rates strategy at Rabobank International in London. "Still, the market will retain its glass-half-full view as long as the positive policy backdrop, including the ECB entertaining the notion of quantitative easing, causes liquidity to dominate."
Recommended Reading :
* Spain reiterates opposition to VAT hike