Catalan Separatists Say Debt Investors Can Help Campaign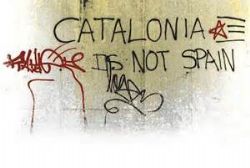 Catalan leaders pushing for a referendum on independence from Spain say investors might help force PM Mariano Rajoy to yield.
With a majority of Catalans demanding a chance to vote on their constitutional future, the Spanish government needs to find a way of addressing their concerns or risk a political backlash that could rattle markets, said Oriol Junqueras, leader of Esquerra Republicana de Catalunya, the separatist party that won the regional vote in May's European election.
"The Spanish government owes 1 trillion euros and someone has to pay this debt," Junqueras, 45, said in an interview. "It's not a good idea to stop the Catalan people voting and it's not good for international markets."
Scotland will hold a vote on independence on Sept. 18 and Catalans say they too should be allowed one. Yet Rajoy has shown no sign of relenting as he tries to maintain political stability while Spain emerges from a 6-year economic slump. Catalonia accounts for about 20% of the Spanish economy, twice Scotland's output as a proportion of the U.K.
"The nervousness could come should Spain and Catalonia not find a path to reach an agreement," said Serafi Rodriguez, a fixed income trader at Morabanc Grup SA, which oversees EU6.5 Bln "As long as there isn't a violent deterioration of the situation or a disorderly breakup, the situation for investors is rather unchanged."
Narrower Spread
The extra yield investors get for holding Catalonia's 2020 bonds rather than comparable Spanish debt was 106 basis points yesterday compared with 170 basis points 6months ago and as high as 744 basis points in July 2012, according to data compiled by Bloomberg. The Catalan securities yielded 2.49% compared with 1.43% for the Spanish bonds.
Scotland is able to hold a vote after an agreement between the governments in London and Edinburgh following an election victory in 2011 for the Scottish National Party.
Rajoy meanwhile has said plans by Catalan President Artur Mas for a Nov. 9 referendum won't be allowed to go ahead because they would be unconstitutional.
While the Spanish premier is betting that his refusal to budge will outlast the clamor for a vote in Spain's biggest regional economy, Catalan party leader Junqueras said that the surge in separatist sentiment may increase further if it doesn't find a democratic outlet.
Let's Talk
Mas said this month he might delay the vote should Rajoy agree to start talks on Catalonia. Mas is waiting for him to set the date for their first meeting in almost a year.
"If the Spanish government says O.K., we are willing to accept the consultation in Catalonia, we are committed to let Catalan people vote, and as they did in the U.K., we have to sit at the table and open negotiations," Mas said in an interview in Barcelona on July 14. "You can talk about the terms of this referendum or this consultation, you can talk about the date, you can talk about the question."
A week before the Scottish referendum, on Sept. 11, Catalan separatists plan their annual independence rally to mark their national day. More than 1 million people took to the streets last year, La Vanguardia newspaper reported.
Pushing on with the vote in the face of legal challenges will present Rajoy with a dilemma: whether to back down or be seen intervening to stop his citizens from voting, said Junqueras, a history professor who is also mayor of Sant Vicenc dels Horts, a town near Barcelona.
"We must try to vote even if the constitutional court says it's illegal because there is a democratic mandate," said Junqueras, who has forged an alliance with Mas since doubling his party's representation in the regional assembly in 2012. "That is more important than the will of the constitutional court. Democracy is more legitimate."
Recommended Reading :
* UK urges Spanish press to censure Scotland Independence
* Spain "Will not interfere with Scotland referendum"