Spain unemployment falls to lowest in 2 years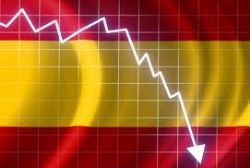 Spain's unemployment rate fell to its lowest level in 2 years in Q2, data showed on Thursday, lifted by strong job creation in the services sector and adding to hopes of a sustained economic turnaround.
Unemployment fell to 24.5% from 25.9% a quarter earlier, the National Statistics Institute said.
The headline figure remains the second highest in Europe, but the drop was steeper than expected as more than 400,000 people started work, the largest quarterly increase since Q2 of 2005.
"These figures are much better than expected and while there's an important seasonal element, seasonally adjusted figures are also strong," said Jose Luis Martinez, economist at Citi in Madrid.
"I have the feeling that there has been a very sharp halt in activity in the last two years, maybe more than is rational, and that's starting to normalise."
Spain has been in and out of recession since a housing bubble burst in 2008, leaving millions of low-skilled labourers out of a job and sending the unemployment rate from a low of around 8% in 2007 to a high of near 27% last year.
After years of painful fiscal adjustments and structural reforms, the country's economy is now expected to grow by over 1.2% this year and as much as 2% in 2015, making it one of the strongest performers in the euro zone.
While the second quarter tends to be a strong period of job creation as the vital tourist season begins, seasonally adjusted data were also positive.
In seasonally adjusted terms, unemployment fell by 3.12% from the previous quarter, marking the5th straight quarter of falls, while employment rose 1.03%.
The quality of employment also improved, with 304,400 new jobs being full-time while 180,200 contracts signed were permanent ones, suggesting that companies anticipate the recovery will remain strong in coming months.
A total of 5.623 million Spaniards were unemployed, according to the quarterly poll, while the number of people either working or available for work rose by 92,000 from a quarter earlier to 22.976 million.
The total number of employed increased by 402,400 people in Q2 compared to the first to 17.353 million, the largest rise since Q2 of 2005.
Over 90% of those jobs were in the service industry, worth around half of Spain's economic output.
Recommended Reading :
* Spain's unemployment plummets in June