Spain's Caixabank bad debts fall as recovery takes hold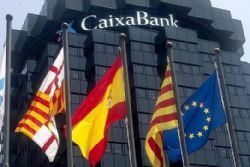 Spain's Caixabank said lending income continued to grow in the second quarter and bad debts fell again, as an improving economy spurs a turnaround in the country's banking sector.
Spanish banks are in recovery mode after a deep financial crisis and are still lumbered with higher levels of soured loans than before the 2008 property crash that gutted earnings.
But their bread-and-butter lending businesses are becoming more profitable again, raising hopes of a sustained revival as the country's economy emerges from a six-year slump.
The fall in bad debts at Caixabank bodes well for the rest of the sector, with leaders Santander and BBVA , and bailed-out Bankia due to report earnings next week.
"The second quarter (at Caixabank) underpins our view about a more positive asset quality environment," Credit Suisse analyst Ignacio Cerezo said in a note to clients.
Barcelona-based Caixabank said on Friday lending income, or net interest income (NII), a closely-watched measure of earnings on loans minus funding costs, was just over EU1 Bln in Q2
That was almost 6% higher than a year ago and echoed gains at smaller rivals Sabadell and Bankinter which reported even bigger jumps as lenders benefit from the falling cost of deposit funding.
One of the most acquisitive banks in Spain during the financial crisis, Caixabank's non-performing loans as a percentage of total credit had jumped as it absorbed weaker peers.
It said that ratio dropped to 10.78% at end-June from 11.36% at end-March, bringing it well under a sector average of 13.4% and marking another quarterly drop.
Net profit more than doubled to EU153 Mln from a year ago, helped by lower provisions against soured loans, and beating forecasts of EU127 Mln.
Caixabank's shares were up 3.7% at 0838 GMT, outperforming a 1.3% rise in European banks.
LENDING TRENDS
Lending trends are also beginning to improve in Spain after a sharp contraction during the recession, which ended in the second half of 2013. Overall credit is still falling at most banks, but more slowly.
Caixabank is more geared towards mortgages than some peers like Popular which focus on business lending, a high- margin area many now want to expand in. Its gross lending was down nearly 1% in Q2 from the first 3 months of the year. But that was a modest drop compared with recent years.
"The deleveraging eased in the second quarter," Chief Executive Gonzalo Gortazar told a news conference. He said the fall in the lending was mainly down to the bank cutting bad debts.
Caixabank, one of Spain's more international banks which has stakes in other lenders from Asia to Portugal, said it had taken a hit from a 9.1% holding in Austria's Erste Bank , which issued a profit warning in July.
Caixabank said earnings from corporate holdings, excluding dividends, were down 64% in the first half from a year ago to EU122 Mln, due to Erste.
The Credit Suisse analysts estimated the impairment at around EU150 Mln. Gortazar said Caixabank had no plans to alter its position in Erste Bank.