Spain train driver apologizes on anniversary of crash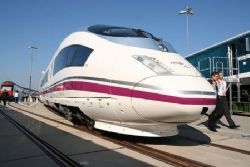 A year after a train flew off the tracks on the outskirts of the Spanish city of Santiago de Compostela, killing 79 people, the driver on Thursday asked for forgiveness in an open letter to the victims.
"I feel a great deal of pain and sorrow," Francisco Jose Garzon Amo, who has been provisionally charged over the accident, wrote in the letter published in daily newspaper La Voz de Galicia.
"It distresses me to think of what words I can say to you, if they will be adequate, if what I say could bother you. All I can do is ask for forgiveness," he added.
The eight-carriage train was hurtling round a bend at 179 kPH (110 mph), more than twice the speed limit for that stretch of track, when it tore off the rails on July 24, 2013, according to its data recorders.
Garzon ended a telephone conversation with the on-board conductor 11 seconds before the train flew off the rails and ploughed into a concrete siding, coming to rest in a mangled heap.
He has been provisionally charged with 79 counts of reckless homicide. The driver has been released under court supervision while the investigation into the crash continues.
"In reality I don't know if what I say or feel could provide you with some relief from your tremendous pain," Garzon added in his open letter.
"You don't know how much I would give for that. The harm you have suffered is so great."
Garzon lived in hiding immediately after the accident but now "does not hide anymore" in the northern city of A Coruna, where he looks after his ill mother, daily newspaper El Pais reported.
The judge leading the investigation into Spain's deadliest train accident in decades, Luis Alaez, has blamed excessive speed and a lack of adequate automatic braking systems on the stretch of the track where the train derailed for the disaster.
He has put 11 officials from state railway company Adif under formal investigation over the accident.
Recommended Reading :
* Victims and families of Santiago crash snub Gov't award