EC Approves Murcia's Corvera Loan - With Conditions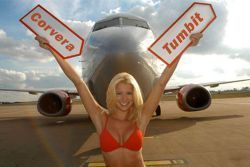 The European Commission has approved the Region of Murcia's EU183 Mln loan guarantee to secure the opening of Corvera International Airport.
However, permission is conditional to the closure of San Javier airport.
Although Brussels did not put any timescale on the closure, source close to matter have suggested that the National Government of Spain would be required to demonstrate that plans to close San Javier airport we in place before Corvera comes into operation.
Towards the end of 2013 the regional Minister of Public Works, Manuel Campos, announced that Corvera would open before the end of 2014. However, approval of the loan guarantee required by the concession holders of the facility - Aeromur - to ensure the operation of the airport for the first 10 years was an issue that needed to be resolved.
Sources have also suggested that the European Commission has considered the sustainability of the region's debt, and concluded that Corvera airport is only viable without competing with it's smaller neighbor. Such competition would harm Aeromur's ability to repay the loan.
The fly in the ointment now is AENA's lack of interest in taking steps to close San Javier Airport - perhaps sensing that hold all the cards and can therefore use to their advantage when negotiating compensation terms for it's forced demise.
Just last month Campos made another conflicting announcement : That both Corvera and San Javier airports would operate until 2016. Indeed, two weeks ago the Minister of Defence, Pedro Morenes, told the press that San Javier would remain open as long as there was a demand by the public.
Today's news clearly contradicts that.
Recommended Reading :
* Murcia to operate both San Javier and Corvera until 2016
* EU changes Airport funding rules : Lookout Corvera !