Spain send experts to join Algeria air crash investigation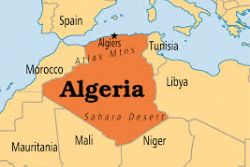 Spanish aviation experts are heading to Mali to join an undergoing investigation on the crash of an Air Algerie flight that killed 116 people in northern Mali on Thursday.
Spanish news agency (EFE) quoted government sources on Saturday as saying that seven Spanish experts have left the military air base Torrejon de Ardoz heading to Mali's capial, Bamako.
On Friday, Spanish Deputy Prime Minister Soraya Saenz de Santamaria said in a press statement that that Spain sent (EADS CASA C-295) military transport aircraft to transfer victims of the crash.
The crashed plane, chartered by Spanish company Swiftair and operated by Algeria's flagship carrier, had successfully passed all technical checkups on July 22, the Spanish official pointed out.
The Air Algerie plane was flying from Ouagadougou, capital of Burkina Faso, to Algiers, Algeria, when it disappeared early Thursday just 50 minutes after takeoff - the third crash of a passenger plane in the last week.
French authorities said the catastrophe was probably the result of extreme bad weather.
Recommended Reading :
* Spain's Swiftair says lost contact with plane en route to Algiers