Telefonica and Santander team up to launch online education platform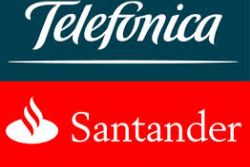 Spain's Telefonica and Banco Santander on Sunday presented in Rio de Janeiro a global higher education platform that will offer free online courses in Portuguese and Spanish.
The MiriadaX platform was presented at a press conference participated in by Telefonica CEO Cesar Alierta and Banco Santander chief Emilio Botin on the eve of the 3rd International Meeting of Universia Deans, which will take place this week in this Brazilian city.
The project has been under way for a year-and-a-half via pilot projects at 33 universities in Spain, Argentina, Colombia, Peru and Puerto Rico.
Since MiriadaX's creation in January 2013, about 745,000 students have signed up, of whom 105,577 have completed the courses, and the platform features a community of 990 professors.
The program will be broadened to educational centers forming part of Universia, a network sponsored by Banco Santander made up of 1,216 institutions of higher education in 23 Ibero-American countries that has 14 million students and professors.
The MiriadaX courses are open to the public, without any need to be previously registered at a specific university and without the need to take prior entrance exams.
Botin said that the new platform "is a revolution" in education comparable to the one sparked by the invention of the printing press in the 15th century.
"The printing press was a great innovation and, without a doubt, knowledge that can be transmitted via the Internet is possibly the next great educational innovation we have the privilege to be experiencing," the Banco Santander chairman said.
Alierta, meanwhile, said that the new platform offers "tremendous potential" for the Ibero-American educational system and will contribute to "democratizing" teaching in the region.
MiriadaX is the largest Spanish- and Portuguese-language Massive Open Online Course (MOOC) platform, an educational method characterized by offering online classes free to large numbers of people without any obstacles to access.
Recommended Reading :
* Spain's Telefonica buys Mediaset Espana stake in Canal+