Spain's Felipe VI to keep royals out of private sector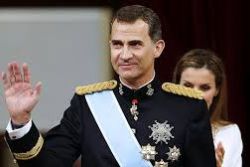 Members of Spain's scandal-tinged royal family will not be allowed to work for private firms and palace accounts will be subject to external audit under new rules imposed by King Felipe VI to help the monarchy regain public favour.
Felipe, who became king last month after his father Juan Carlos abdicated, wants his family to repair the Spanish royal reputation tarnished since his brother-in-law was hit with corruption charges in 2011.
Juan Carlos agreed to open the monarchy's affairs to more public scrutiny last year under a new transparency law but his son wants to further to win back public approval.
The new rules on private sector work, announced by the royal palace on Monday and expected to be approved before year-end, apply to Juan Carlos and his wife Sofia as well as Felipe's wife Queen Letizia, an ex-journalist, and their two young daughters.
They do not affect Felipe's two sisters, who are now considered relatives of the royal family rather than members of it, and both work for major Spanish foundations.
His sister Cristina de Borbon faces charges of tax fraud and money-laundering as part of an investigation into her husband Inaki Urdangarin's business dealings.
About two-thirds of Spaniards want a referendum held on the status of the monarchy, according to a recent Metroscopia poll, although another survey showed that most Spaniards continue to support a parliamentary monarchy rather than a republic.
Recommended Reading :
* Spanish Royals plane food budget to double
* Spain seeks total legal immunity for Juan Carlos after abdication