Gay community in Spain most affected by hate crime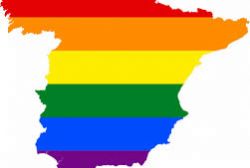 The majority of the hate crime in Spain so far this year has been motivated by sexual orientation or gender identity.
Two police reports to which La Cadena SER had access showed that during the first 6 months of the year, there were 235 incidents motivated by sexual orientation or gender identity.
was out of a total of 550 hate crimes, which meant that anti-LGBT crime accounted for approximately 40% of hate crime between January and June.
Racism/xenophobia and ableism were found to be the motive for 124 crimes each.
The crimes included sexual abuses, injuries, threats, thefts and rapes.
was the community where there were the most hate crimes motivated by sexual preference and gender identity, with 93 out of 166.
communities with the next highest statistics are the Balearics with 24 attacks and Galicia with 22.
However, these figures lack the statistics from two of Spain's police forces, which will be presented at the end of the year.
Anti-LGBT crime had the highest figure for hate crime last year, with 452 identified cases.
In 2013, hate crimes in total roughly stayed the same.
In April, a survey found that Spain was once of the most tolerant countries.
Recommended Reading :
* King Felipe VI welcomes Spain's Gay groups
* Spain's most Gay-Friendly country