Bankia's profit jumps as Spain's economy picks up, bad debts fall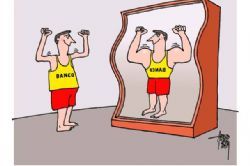 Bankia nearly doubled its second-quarter net profit as Spain's economic recovery helped the bailed-out bank to increase margins and bad debts fell for a 2nd straight quarter.
Bankia's profit jump provides further evidence that a sustained upturn is taking root among Spanish banks as the economy emerges from recession and the rate of defaults on loans begins to ease.
The bank's strong performance will focus attention on government efforts to return rescued banks to the private sector. The state owns about 60% of Bankia and turned a small profit by placing a 7.5% stake in the market in February.
Spain has racked up billions of euros of losses from shedding other nationalised banks, including Catalunya Banc, which it agreed to sell to BBVA at a loss to taxpayers last week.
Bankia's margins improved as a result of a drop in deposit rates paid to customers plus Spanish banks' ability to charge more on new loans than several years ago. But Bankia's net lending fell 3.3% from December to June as bank credit is still shrinking in Spain.
Bankia CEOhief Executive Jose Sevilla said new lending was increasing in some areas. The bank, which is heavily weighted towards mortgages, is trying to compete with rivals in higher-margin business lending.
"Credit flows are increasing," Sevilla told a news conference on Monday, adding small company loans were starting to grow.
Sevilla said Bankia might cut non-performing loans by more than expected this year as it is also in the process of selling two portfolios of troubled debts, with a combined nominal value of over 1 billion euros.
He also said it was up to the government to decide whether to sell any more of its holding in the bank.
TURNAROUND SYMBOL
Bankia, the country's fourth biggest bank, has become a symbol of Spain's turnaround since returning to profit in 2013. It was cleansed of soured property assets after being forced, along with rivals, to take big writedowns on troubled loans, and it took almost half of an EU 41.3 Bln rescue from Europe 2 years ago.
"As with other Spanish banks this quarter, the improvement in margin (at Bankia) has come from lower funding costs while maintaining asset yields stable," Daragh Quinn, banking analyst at Nomura, said in a note to clients. He has a "Sell" rating on Bankia shares.
Rivals Sabadell, Bankinter and Caixabank have also reported net interest income gains. BBVA and Santander, which make most of their profit outside Spain, should reflect similar trends in their domestic businesses when they report results later this week.
The downward trend in bad debts at Bankia is in sharp contrast to other euro zone countries such as Italy where banks' soured debts are expected to keep rising.
Bankia's 2nd-quarter net interest income (NII), or earnings on loans minus financing costs, rose 26% from the same period a year ago to EU 730 Mln, beating a forecast of EU 717 Mln in a Reuters poll.
Excluding the effect of a subordinated loan that hit last year's earnings, NII would have still risen 15%.
Its net income jumped 94% in the April-June period to EU 245 Mln.
But Bankia still has work to do to rebuild its franchise and revive lending.
The bank is still cleaning up its balance sheet as are other banks across the region in preparation for Europe-wide health checks of their assets this year.
Bankia's bad debts as a percentage of total credit, while still slightly above a sector average, dipped to 14% at the end of June from 14.3% 3 months earlier, mirroring improving trends across the industry.
Its coverage ratio, or the level of buffers it has to cover problem loans, was 58.9% in June, up from 56.5% in December.
Bankia, which has cut thousands of jobs and shed stakes in companies as a condition of its rescue, shrank costs by about 10% in the first half of 2014 compared to a year earlier.
Its return on equity (ROE), a measure of profitability, was 7.9% in June, up from 5.8% in December.
"Bankia has room to beat its 10% ROE target (for 2015)," UBS analyst Ignacio Sanz said in a note.
Its shares, which have risen more than 17% this year, were up 1.38% at 1.47 euros per share at 1325 GMT.
Recommended Reading :
* Bankia nominated Spain's worst company and worst advert 2014