Spain to revise economic growth forecasts for 2014, 2015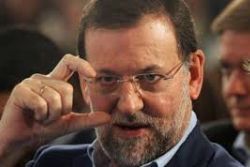 The Spanish government plans to revise its growth forecasts for this year and next, Economy Minister Luis de Guindos said on Tuesday, in the latest display of confidence in the strength of the economic recovery after a prolonged slump.
The minister said the economy was likely to expand by 1.5% this year, up from a previous estimate of 1.2%, and 2% next year, up from 1.8%.
Madrid will publish its official economic projections for the next few years as part of its 2015 budget proposal in September.
"We have a economy that has been brought back to health, productive and competitive, that stopped being a drag on the euro zone and is contributing, and making a difference, to its growth," de Guindos said during an appearance in the lower house of Parliament.
true
Spain has been in, or close to, recession for almost 6 years. A burst property bubble had put millions out of work, sent public debt soaring and pushed the country close to default.
Since the economy emerged from the latest 2-year recession in the second part of last year, stronger-than-expected data has prompted economists, including the IMF and the Bank of Spain, to raise forecasts.
Unemployment, while still among the highest in the EU, fell to 24.5% in Q2 from a high of near 27% last year, the sharpest year-on-year drop in 8 years.
De Guindos said the government probably would also cut its unemployment forecast, which currently sees the jobless rate at 24.9% this year and 23.3% in 2015.
Meanwhile, retail sales expanded for the third straight month in June, official data showed on Tuesday, as cash-strapped Spaniards, long afraid of joining the unemployment lines, make a tentative return to the high street.
The National Statistics Institute will publish preliminary second-quarter growth figures in Wednesday, which are expected to show a quarter-on-quarter expansion of 0.5%, the fastest rate of growth in more than 6 years.
Recommended Reading :
* Spain unemployment falls to lowest in 2 years
* IMF says Spain needs to raise taxes after election year cuts