Spain Growth Beats Bank of Spain Estimate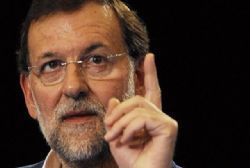 Spain's Q2 growth beat the Bank of Spain's estimate as economists say domestic demand supported a recovery in the euro region's 4th-largest economy even as prices fell this month.
The Madrid-based National Statistics Institute today said that GDP rose 0.6% from Q1, more than the forecast of 0.5% released last week by the Bank of Spain. Consumer prices fell 0.3% from a year ago in July, INE said in a separate release.
"It's rare for the Bank of Spain to be mistaken, even by a tenth," said Frederik Ducrozet, an economist at Credit Agricole CIB in Paris. "That suggests a marginally stronger momentum than expected."
As domestic demand starts to recover from the deepest austerity measures in Spain's democratic history, PM Mariano Rajoy is relying on the rebound to dent a 25% unemployment rate, the second-highest in the EU.
"Growth could beat forecasts this year and next as domestic demand seems to recover, possibly supported by government incentives deployed in the run up to the next general election," Ducrozet said.
Falling Prices
Economy Minister Luis de Guindos yesterday said the government expects the economy to grow 1.5% this year and 2% in 2015, faster than previously forecast. That will push unemployment lower than the 24.9% rate initially predicted for 2014, Guindos said. Details will be published in September, he said.
Stronger growth didn't prevent prices from falling this month after stagnating in June. The 0.3% drop compares with the median forecast for a 0.1% decline in a Bloomberg survey of 16 economists.
"Spain still has a large output gap inherited from past weak growth," said Jacques Cailloux, chief European economist at Nomura International Plc in London. "The cyclical upswing isn't sufficient to close the gap and suppress disinflationary pressures, as shown by low wage inflation."
German carmaker Opel this month said that its market share in Spain was the strongest since 2006 in the first half. Car sales in the country jumped 24% in June, the biggest increase among Europe's 5 largest auto markets. As traffic on its Spanish toll roads reached the highest in 7 years, Abertis Infraestructuras SA first-half profit rose 4.4%.
'Sustainable Recovery'
"This is the beginning of a sustainable recovery," said Miguel Cardoso Lecourtois, chief economist for Spain at BBVA in Madrid. "The growth we're seeing has mostly come from domestic consumption and from investment in machinery and equipment."
Spanish retail sales rose in June from a year ago by 0.2%, INE said yesterday. That's the 3rd straight month it's increased, and the longest period of gains since 2007.
Even so, companies including office supplier Adveo Group International and airline Iberia are still cutting jobs, more than 2two years since Rajoy overhauled labor rules to make it easier for companies to reduce headcount and wages.
"It's clear that wages have fallen in Spain," said Alfredo Arahuetes Garcia, head of the economy department at Pontificia Comillas University in Madrid, in a telephone interview. "The recovery will be very gradual with spending remaining soft as families dig into their savings."
No Savings
Households had no savings in Q1 for the first time since the start of the series in 2000, INE data showed on July 2. Gross available income fell 2.7% from a year ago while spending rose 1.9%, it said.
Optimism about Spain's nascent recovery and investors' search for additional yield amid unprecedented central-bank stimulus measures have fueled a rally in its stocks and bonds. Spain's Ibex-35 index of leading companies is up 29% from a year ago while the Spanish Treasury is cutting back planned debt issuance amid record low borrowing costs.
The yield on Spain's 10-year benchmark bond was at 2.47% at 10:17 a.m. in Madrid, compared with a euro-era high of 7.7% in July 2012, when the sovereign came close to losing access to financial markets after seeking a European bailout for its banks.
Recommended Reading :
* Spain to revise Economic growth forecasts for 2014 & 2015
* Spain sees revenue from foreign tourism grow 78% 2014 to date