Spain evacuates 37 from Libya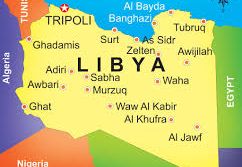 Some 60 people, including 37 Spaniards, 10 Portuguese, 9 Libyans and 3 Poles, arrived in this capital on Tuesday on board a Spanish military jet that evacuated them from Libya after violence increased in the North African country.
The situation in Libya is "very complicated," as was the evacuation, given that the Tripoli airport is controlled by Islamist militias, Spanish Foreign Minister Jose Manuel Garcia-Margallo said.
He emphasized that "it seems that the (Libyan) air space may be closed in the coming days, which will determine whether there will need to be alternative solutions scheduled, in which all departments will have to cooperate, above all the Defense Ministry."
Garcia-Margallo met with Spain's consul in Tripoli, Ana Flor Alburquerque, who had traveled with the evacuees, to get a firsthand evaluation of the situation with an eye toward taking further measures that "are the government's responsibility ... and in close cooperation with the countries of the (European Union) who have diplomatic representation and citizens" in Libya.
"This is not about adopting isolated decisions. This is about adopting European decisions for (the) countries who are in Libya," said the minister. The Spanish Foreign Ministry organized the evacuation after recommending on its Web page on Sunday that Spaniards leave Libya given the growing risks to their safety there.
The evacuation was supervised by the Consular Emergency Unit, the Foreign Ministry said.
The evacuees arrived at the Torrejon de Ardoz air base near Madrid and were welcomed by top Spanish Foreign Ministry officials and diplomats from Portugal and Poland.
Spain's ambassador to Tripoli, Jose Antonio Borgallo Huidobro, is remaining in Libya, the ministry said.
The Spanish government issued a call to the parties in the Libyan conflict to agree to a cease-fire that would put an end to the fighting.
Other Western countries have also evacuated their nationals from Libya as clashes between rival militias in Tripoli and Benghazi, the North African nation's two main cities, continue. The fighting has taken about 100 lives and wounded more than 400 people in the past two weeks.
Recommended Reading :
* Spain advises Libya on how to run a Government