Eroski Spain in EU2.6 Bln debt restructuring deal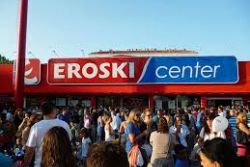 Spanish supermarket chain Eroski has reached an accord with lenders to restructure EU2.6 Bln of loans.
Eight banks holding more than 85% of the debt agreed on a new structure with the Elorrio, Basque Country-based company, according to an e-mailed statement. The plan, which includes selling non-strategic assets, will be formalized in coming weeks, Eroski said in the statement.
The Spanish retailer is part of Mondragon Corp., a closely-held Basque cooperative conglomerate that includes Fagor Electrodomesticos, an appliance maker that entered liquidation in March. Eroski reported EU41.4 Mln of operating income for last year compared with EU6.3 Mln in 2012, according to a May 15 statement.
Eroski's new debt structure is divided into four tranches including EU800 Mln of senior loans linked to the company's earnings and EU300 Mln that will be repaid as it sells assets. There are also EU942 Mln of five-year loans to be repaid through improved earnings and EU563 Mln of debt backed by real-estate assets.
Eroski also plans to carry out a voluntary debt swap on its EU660 Mln of subordinated bonds. The company is offering to pay noteholders 15% of face value in cash and another 55% through a new 12-year subordinated security that pays 300 basis points more than the 12-month euro interbank offered rate, according to a January statement.
Fagor, which said last year it had EU850 Mln of debt, sought creditor protection in November after failing to get emergency funding. The appliance maker's demise marked a setback for the cooperative movement after Mondragon decided against keeping it afloat.
Recommended Reading :
* Spain's Eroski reduces losses by 15%
* Eroski to sell supermarkets in central and southern Spain