Spain's Ferrovial in talks to buy Scots airports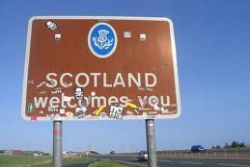 Glasgow and Aberdeen airports are expected to be sold to Ferrovial in an £800 million deal that will put them back in the hands of the Spanish firm which bought former owner BAA in 2006.
Ferrovial, which paid £10.6 billion for BAA at the top of the market, remains a 25% shareholder in the now-renamed Heathrow Airport Holdings (HAH). It was tipped to buy the two Scottish airports and Southampton airport last November when Scotland on Sunday revealed the sale plan.
HAH wants to focus on Heathrow, which is the world's busiest airport for international flights, and aviation experts told The Scotsman yesterday that Ferrovial was the frontrunner.
HAH confirmed yesterday that the sale process is under way and it is thought to be in advanced discussions with a potential buyer with a view to completing a deal by the end of the year.
The 5-month target to sell the three airports is one month shorter than the time HAH, then known as BAA, took to sell Edinburgh airport in 2012-13.
One airport source said: "It would be impossible to sell three airports by the end of the year unless a buyer has been lined up."
The Edinburgh sale was forced by the Competition Commission, which ordered it to offload either Edinburgh or Glasgow airports over monopoly concerns.
BAA also sold Gatwick and Stansted airports as part of the commission's investigation, leaving HAH with Heathrow and the three smaller airports. Global Infrastructure Partners bought Gatwick in 2009 for £1.5bn and Edinburgh in 2012 for £807m, while last year Stansted was sold for £1.5bn to the Manchester Airport Group.
It is understood HAH's other shareholders, who include investors from China, Qatar, Quebec and Singapore, are keen to focus on the UK's sole hub airport at a time when it is in a competitive battle to build an extra runway.
Experts believe customer service will improve when the Scottish airports are sold because they would be given more attention as part of a smaller company, with fewer layers of management.
One said: "This will be good news for passengers. It will take the airports out of the hands of a company which does not really care about them, and lead to a much greater focus on performance and competitiveness."
Those in charge of Ferrovial are also known to have a "forensic" attention to detail over airport operations.
An HAH spokeswoman said: "Over recent months Heathrow Airport Holdings group shareholders and management have been considering their strategic position in relation to our three airports, Aberdeen, Glasgow and Southampton. As a result, the group is now formally entering a sale process.
"Whilst there is currently no certainty a sale will be concluded, the group intends to work towards completing a transaction by the end of the year."
Aside from BAA's assets sales, there have been a number of airport transactions in recent years. The Scottish Government paid a nominal sum for Prestwick and the Welsh government picked up struggling Cardiff airport for £52m.
Recommended Reading :
* Spain's Ferrovial offers £800 Mln for 3 UK Airports