Spain's recovery "Strong" : Rajoy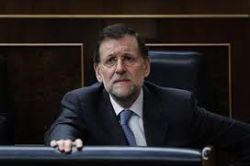 Mariano Rajoy said on Friday that Spain's economic recovery was strong, according to reports by Europa Press Agency.
The Spanish PM was speaking at a press conference held after the Cabinet meeting where he said that Spain was following the right path but there were still "many things to do and many challenges".
Rajoy went on to say how the government would continue to implement structural reforms in order to boost the economy and job creation. He praised the efforts made by unemployed people, self-employed workers, businesses and the government itself.
He also confirmed an earlier statement by Minister of Economy Luis de Guindos, when he said the government would revise up growth forecasts. Rajoy said that they would revise their GDP forecast for 2014, which currently stands at 1.2%, and the unemployment rate.
De Guindos said on Tuesday that the Spanish economy would grow by close to 1.5% this year and by close to 2% in 2015.
Rajoy also pointed out that investors' confidence had increased, as showed by the risk premium, which was at 138 points.
Meanwhile, the Consumer Confidence Indicator (CCI) has also increased, showing that society starts to believe in the economy recovery, Rajoy said.
Recommended Reading :
* Spain to revise growth forecasts for 2014 & 2015