Car sales in Spain rise by 10.9% in July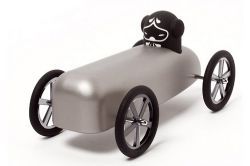 Sales of new cars in Spain rose by 10.9% in July on a year-on-year basis, according to data published Friday by organizations representing the automobile sector.
The Association of Car Manufacturers (ANFAC), the Federation of Associations of Dealers of the Automotive sector (FACONAUTO) and the Association of Car Dealers (GANVAM) reported that the number of purchases stood at 83,223 in July 2014 compared to 75,027 purchases of a year earlier.
Purchases made by individuals rose by 14.3% to 50,324, while firms purchased 20,669 vehicles in July meaning a 10.9% increase.
July data was the best since 2009 and highlighted the role of the Spanish government's plan PIVE on recovery, the associations said. Plan PIVE gives prospective buyers EU2,000 to buy a new, more ecological car and the sector said that this helped improve confidence and demand.
David Barrientos from ANFAC said the automobile sector had created 6,500 new jobs in the first semester, which will help increase disposable income within society.
Recommended Reading :
* Study into Spain's used car market