Spain suspends export of arms to Israel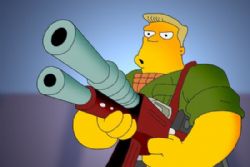 Spain has decided to "temporarily halt" the sale of military equipment to Israel, given the ongoing conflict in Gaza, according to government sources. The decision was taken last Thursday at a meeting of a defense committee known as JIMDDU, at which representatives from the economy, defense and tax ministries, among others, were present.
Spanish arms sales to Israel amounted to just €4.9 million in 2013, which is just over one percent of the country's total defense exports. The measure – which has also been applied to Egypt, Ukraine and Venezuela in the past year – means that no new defense licenses will be issued to Israel, while those already in place will be indefinitely suspended.
According to the statistics sent to Spain's Congress by the secretary of state for commerce, the sale of Spanish arms to Israel in 2013 included parts for pistols that were to be exported to the US, components for a missile that were to be used by the army, all-terrain vehicles, grenade fuses, mortar systems and a prototype aiming system.
Last Thursday, the same day that the decision was taken, Foreign Minister José Manuel García-Margallo said in Congress that the number of victims from the bombings in Gaza was "heart-rending," and recognized "Israel's right to protect its citizens, but under the condition of proportionality and the respect for protection that civilians deserve, which is no less than a manifestation of international humanitarian rights."
The suspension of exports is indefinite, although it may be revised at the next meeting of the JIMDDU committee, in September. In similar previous cases – where there was no EU embargo, as happened with Egypt – Spain eventually altered its approach according to the attitude of other European countries.
NGO Amnesty International has called on the international community to immediately suspend the transfer of military material to all sides in the conflict.