Moroccans account for 15% of all foreigners resident in Spain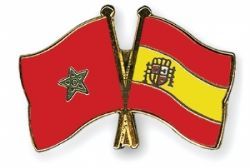 According to last Wednesday report conducted by the Spanish Permanent Observatory for Migration, responsible to the Ministry of Labour and Social Security, the number of Moroccans Citizens legally resident in Spain at the end of 2013 stood at 785,180.
The number of Foreigners as whole living in Spain totaled some 4.9 million.
The report goes on to reveal how the number of Moroccans living in Spain dropped by 10'000 between March 31 and December 31 of 2013.
Moroccan Women totaled 324,000 compared to 460,000 men.
Recommended Reading :
* Morocco asks Spain to pay towards spot deportation of migrants