Rajoy Cuts Regions Budget Slack as Spain Votes Loom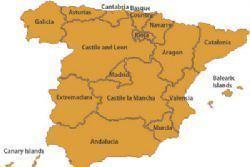 PM Mariano Rajoy, who's missed budget targets every year since taking office in December 2011, is loosening the government's purse strings as he seeks to recover support before elections next year.
Rajoy is channeling funds to regional authorities in charge of education and healthcare spending by easing the terms of the central government bailouts they needed at the height of the financial crisis. With European bond yields at record lows, officials in Madrid last month pushed back repayments on EU16.6 Bln of rescue loans and cut the interest rate on EU48.8 Bln of debt to 1% from as much as 5.2%.
"It's too early for these kinds of measures," said Angel Laborda, a former head of government forecasting who is now chief economist at Madrid-based Funcas, the savings bank foundation. "It feels like an electoral move."
Austerity fatigue is setting in across the euro region. In Dublin, with the Irish government's popularity sinking, a senior minister signaled last week that some pay cuts for public sector workers may be reversed. Some 900 miles away in Madrid, Rajoy is trying to shield his army of local officials from voter anger before elections next year in which traditional party strongholds are at risk.
Some 13% of respondents said they'd back Rajoy's People's Party, in a survey last month by the state pollster. In 2011, Rajoy won 45% of the vote.
Rising Debts
The central government is easing the terms of the regions' rescue loans with Spain's public debt set to reach 104% of GDP in 2015, according to European Commission estimates. The commission projects that Rajoy will miss his deficit target of 4.2% next year by 2.2 percentage points.
The country added EU 58 Bln to its debt pile in the year to May, more than half raised by regional authorities, according to Bank of Spain data.
Regions have kept increasing their borrowing despite the conditions attached to rescue loans that were supposed to force them to rein in expenditure.
Investors are giving the government room to ease off on austerity. The Spanish treasury last week sold 10-year bonds at record low yield of 2.7% as the ECB pledged to hold down borrowing costs for an "extended period."
Investors prefer Spanish debt to Italian paper, demanding an extra 24 basis points to buy 10-year debt issued by Italy, which unexpectedly slipped into economic recession in Q2 as Rajoy said he plans to raise his forecast for Spanish growth.
Missing Targets
The concessions announced last month, which bring the discounted interest rate below the treasury's own funding costs, will mean EU4 Bln of extra cash for regions and come with conditions including using the money to pay outstanding bills from their suppliers.
Catalonia, Spain's largest regional economy and the biggest user of the government rescue facilities, may miss its 1% deficit target by a "considerable" margin, a budget watchdog said July 28. Valencia, Murcia and Aragon, which are ruled by the People's Party, also may miss surpass their budget limits.
While Madrid, the 2nd-biggest contributor to the Spanish economy, hasn't used the rescue loans, it may benefit from a new financing tool the Budget Minister Cristobal Montoro said is under consideration. The new facility would involve fewer restrictions than existing rescue loans, he said July 31.
Courting Voters
"The regions' debts keep increasing so the rescue facilities still have to show their full potential to reorganize the public administration," said Luis Benguerel, a Barcelona-based portfolio manager at Interbrokers Espanola de Valores. "Sooner or later investors will be focused on fundamentals again and it would be better if the regions' borrowing is stabilized by then."
For now, Rajoy has scope to court voters who've turned against the government as it poured more than EU40 Bln into the banking industry while cutting healthcare and education budgets. Last month the government sold Catalunya Banc SA to BBVA for EU1.2 Bln, compared with EU12 Bln of taxpayer funding it used to salvage the lender in 2012.
Irish Woes
Spaniards will vote to choose more than 8,100 mayors and 13 out of 17 regional governments in May before a general election due by November.
Rajoy may be unnerved by the fate of Ireland's government. Last month, the Labour Party, the junior member of the ruling coalition, chose Joan Burton to replace Eamon Gilmore as leader after opponents of spending cuts wiped out much of its support in local and European elections.
PM Enda Kenny has raised the possibility of income tax cuts, while Spending Minister Brendan Howlin said in an interview with the Irish Independent newspaper published on Aug.9 that reversing wage and pension cuts may be discussed with public sector unions next year.
In Spain, the two main parties, who've controlled the central government since 1982, have seen support drain away as voters turn to alternatives like Podemos, a party founded this year that wants government control of the ECB.
Podemos was endorsed by 12%, pushing the main opposition PSOE into 3rd place, according to CIS, whose poll is based on 2,471 interviews conducted between July 1 and 9, and HAS a margin error of 2%.
"We have to make an effort to recover the confidence of a lot of people," said Rajoy in an Aug. 1 press conference. "I am convinced that PP will do it, and I will focus on it intensely."
Recommended Reading :
* Rajoy's Tax Cuts Seen Threatening Country's Deficit