Spanish Prices Drop at Fastest Pace Since 2009 Credit Crunch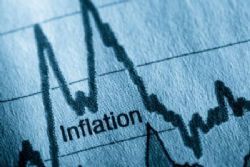 Consumer prices in Spain fell at the fastest pace since the depths of the credit crunch in 2009 as declining wages curbed the pricing power of retailers.
Spanish prices dropped 0.4% from a year earlier as measured by a harmonized EU method. That compared with the median forecast for a 0.3% drop in a Bloomberg News survey of 12 economists. Prices slid 1.5% on the month while core inflation, which excludes energy and fresh food prices, was zero.
With Greece and Portugal already suffering from deflation and inflation close to zero in Italy, falling prices in the euro region's 4th-largest economy may add to calls for the ECB to take further action to head off deflation risks across the currency union.
"What they've done so far is not enough," said Giada Giani, an economist at Citigroup Inc. in London, who forecasts the ECB will begin broad-based asset purchases around the end of this year. In Spain, "core is zero, which according to many definitions would already be considered deflation."
Still, Spain's economy is recovering from its 5-year slump even as prices fall. The economy expanded 1.2% from the year earlier period in Q2 and economists expect the pace of growth to reach 1.5% next year.
Japan Comparisons
Concern over falling prices pushed Germany's two-year borrowing costs below zero this month, meaning investors preferred to pay to hold the federal government's debt rather than risk owning other assets that might decline in value. The yield on the country's 10-year debt is edging towards 1%, a signal that investors don't believe the ECB is doing enough to put inflation back on track, according to Lena Komileva, chief economist at G Plus Economics Ltd. in London.
Economists forecast euro-area inflation of 1.2% next year, compared with the ECB's goal of just under 2%. Quotes for inflation-linked bonds suggest inflation expectations are anchored at 1% over 5 years, ECB President Mario Draghi said last week.
Reluctance on the part of ECB officials to adopt full-scale quantitative-easing policies that have been pursued by counterparts at the U.S. Federal Reserve, Bank of England and Bank of Japan is prompting comparisons with Japan's stagnation over the past 15 years.
The deflation threat still haunts Japan and the nation's central bank has been buying about 7 trillion yen ($69 billion) of sovereign bonds a month in a program that started in April 2013 in a bid to raise prices.
Italy, which entered its 3rd recession since 2008 in Q2, saw inflation slow to zero last month, its 2nd-lowest printout since the start of the euro.
Prices in Portugal fell 0.7% on the year in July, when economists had expected a decline of just 0.2%.
Recommended Reading :
* Spain's Industrial Production Rises 2.9% in June