Murcia's Corvera Airport "WILL open March 2015"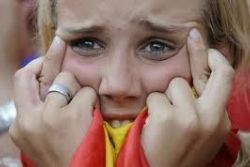 A report in today's edition of La Verdad suggests that Corvera Airport is unlikely to welcome 1 Million passengers during the first 2 years of operation.
The number is just one set condition, by which aid from the region of Murcia will be cut by 50% if not met.
The same reduction will be applied if AENA fail to close San Javier Airport within a period of 2 years after Corvera becomes operational.
Manuel Campos - the Regional Minister of Public Works - yesterday announced that these targets cut be hit "from year three", however this is of little consolation when the conditions apply to year 2.
Meanwhile the Secretary of State for Infrastructure, Rafael Catala, spoke of how the closure of San Javier was still on schedule to be closed within the agreed timeframe.
Latest figures suggest that the total amount of investment sunk into Corvera stands at EU 257 Mln, with state aid legally being unable to exceed 75%, meaning that the maximum amount available to support the concession holders is EU 191 Mln.
The amount currently loaned by the Region stands at EU 171 Mln - meaning the region could agree to spend a further EU 20 Mln of tax-payers money if needs be ?
Speaking yesterday, the Minister maintained that Corvera airport would be open in 2015 and tentatively suggested the month of March - once all the required permits were in place. He also assured that whilst this had been a complex process "a lot had been achieved in a little time".
It was in July 2012 that the very same Rafael Catala announced that Corvera would be operational by October 2012.
He expected the EU's College of Commissioners to announce their decision during October.
A meeting has been scheduled for the 9th of September whereby the concession holder of Corvera Airport (Aeromur), the Regional Government, AENA and representatives of the EU will agree the final conditions - including the state aid - before the facility can open.
La Verdad's report went on to remind how the EU 171 Mln loan would accrue a further EU 270 Mln in interest during the 37 year term.
Furthermore, The Minister confirmed that the Airport would attend next month's World Airline Forum in Chicago, in order to promote Corvera as a recognised destination for major airlines.
Despite the region's current attitude to air travel being little more than a joke, he went on to express surprise that passenger number arriving at San Javier airport this year have not grown, even when passenger numbers arriving in Spain this year are at record highs.
Recommended Reading :
* Corvera, Castellon & Ciudad Real : THIS is how to run a private Airport !
* EC approves Murcia's Corvera loan : with conditions