Immigrants make 3rd border dash to Spain in as many days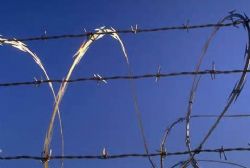 Dozens of sub-Saharan immigrants made the third attempt in as many days to cross the frontier fence which separates the Spanish enclave of Melilla with Morocco, local news reported on Thursday.
The attempt took place in the early hours of the morning with the immigrants trying to penetrate the frontier in two separate locations, Spanish State TV network RTVE reported.
Spanish and Moroccan security forces, which have been re-enforced in recent hours, were able to thwart their efforts to enter into what is in effect EU territory.
Some immigrants were able to make their way into the space between two of the six meter high barbed wire fences, but could not cross the final barrier between them and Melilla and were returned to Moroccan soil.
Thursday's attempt followed the one on Wednesday when 600 immigrants tried to force their way across the fence, with around 70 remaining on top of the wire for several hours before climbing down.
Tuesday saw around 750 immigrants, who have been camping in the hills around Melilla, attempt to storm the wire with around 80 succeeding in entering the city and making their way to the Temporary Residence Center, which has been set up to cope with the arrival of immigrants in the center of the town.
Meanwhile Spain has begun to repatriate some of the almost 1,400 immigrants who have been rescued from the rubber dinghies in which they were attempting to cross the Straits of Gibraltar earlier the week.
A total of 1,388 immigrants have been rescued in the area since August 4 in what is the biggest wave of would-be immigrants to attempt the crossing since 2010. Tuesday was the busiest day with 920 people saved from the waters of the Straits by Spanish Maritime Rescue Services.
These people, who have been reported to be in good health, have been attended by the Red Cross, which transferred extra workers to the zone, in two sports halls in the port of Tarifa (south-west Spain).
The arrival of immigrants has almost stopped completely since Wednesday when Morocco admitted that the influx of migrants setting out from its territory was the result of "dysfunctions that may have happened and that will be corrected very quickly."
Recommended Reading :
* Morocco admits "Dysfunctions" led to immigrant invasion of Spain
* More than 1,000 would-be migrants attempt Melilla fence-jump