Spain and Morocco break up suspected jihadist recruitment network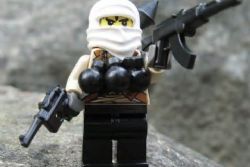 Moroccan police, working in collaboration with Spanish authorities, have broken up a network suspected of recruiting fighters for the Iraqi-Syrian jihadist group Islamic State, and arrested nine people, Spain said on Thursday.
All those arrested were Moroccan citizens, some with strong ties to Spain, and they were suspected of running operations out of the cities of Fnideq, Tetouan and Fez, the Spanish Interior Ministry said in a statement. It said plans for attacks within Morocco has also been found.
"The dismantled network was dedicated to the recruitment, financial support and dispatch of jihadists for the terrorist organisation 'Islamic State'," it said.
Islamic State began as an al Qaeda offshoot in Iraq, seized territory in Syria after joining the rebellion against President Bashar al-Assad, and has now extended its area of control in a push across northern Iraq, declaring an Islamic caliphate in the area it controls.
This month two young Spanish women, one of them under 18, were arrested in the Spanish North African enclave of Melilla on suspicion of trying to join an Islamic State cell in the Middle East.
In May, Spanish police broke up a cell suspected of recruiting jihadists for Libya and Mali, and in March a joint operation between Spain and Morocco led to the arrest of seven people and the dismantling of a group that had sent fighters to Syria.
Those arrested in Morocco on Thursday had sent recruits to be trained in weapon use, assembly and handling of explosives and car theft, to work alongside suicide bombers or as combatants in Syria or Iraq, according to the ministry.
Recommended Reading :
* Spain arrests 2 women planning to join Jihad in Iraq and Syria
* Spanish Police conducting 368 arrests into Islamist terrorism