Almeria Airport looking to increase operations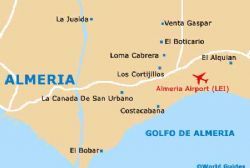 The Government delegate for the region of Andalucía, Carmen Crespo, has issued the Marketing Plan for Almeria Airport, which has set one of its goals as finding a cargo operator that can help to increase the movement of horticultural products.
According to Crespo, there are plans to use Almeria airport to take horticultural products to new markets.
Pedro Bendala, director of Group II of AENA Airports, announced that "negotiations are underway to reach a cargo return agreement with the Arab market, which would facilitate the opening of new marketing channels for Almeria's horticultural products at profitable prices."
In this regard, the government delegate assured that the airport tax exemption proposed by the Spanish Government "will generate wealth in the province of Almería" and explained that the companies opening "new commercial and cargo routes will make great profits, which will result in more opportunities for international business for Almeria's horticultural sector."
Crespo also recalled that AENA is considering the granting of bonuses of up to 100% for new export routes. "These bonuses would have a very positive impact on Almeria's airport, which is expanding and looking for export markets for fruits and vegetables," he affirmed.
In 2013, Almeria Airport handled 705,514 passengers, 10,596 flight operations and 12.5 tonnes of cargo. The new terminal building has been constructed to accommodate some 2 Million passenger number per year, but looks unlikely to reach this level.
Recommended Reading :
* Almeria Airport introduces new domestic flights
* Spain freezes airport tariffs until 2025