Castellón' Airport hands €660,000 to local soccer club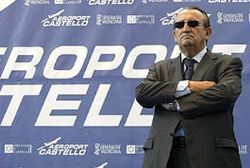 The regional government of Valencia has paid €660,000 to soccer club CD Castellón as part of a sponsorship deal that the unused Castellón Airport (Aerocas) signed with the third division side for the 2009-2010 season.
The regional government owns 99% of Aerocas, which cost €170 million and was officially opened in 2011, but has yet to see a plane land or take off there.
CD Castellón, which has debts of €5.3 million and began bankruptcy proceedings in 2013, has received around €2.4 million from Aerocas since 2006. In a statement released on Wednesday the club highlighted that the amount deposited by the regional government, which is in dire financial straits itself, and is running a €3.5 billion deficit, was of "substantial importance" in helping safeguard the club's immediate future.
The airport was the pet project of the former head of the provincial government of Castellón, Carlos Fabra, and entered into several sponsorship deals worth a total of €35 million with Villarreal soccer club and other sporting entities, including the Alex Debón motorcycle team.
Castellón Airport was opened amid much fanfare by the then-head of the regional government of Valencia, Francisco Camps – who stood down from his post in 2011 to avoid facing trial on corruption charges – and Carlos Fabra, even though it lacked permission to operate. More than 1,500 people were bused in for the event from all over the province.
Addressing the crowd, Fabra, who was sentenced to four years in jail in 2013 for tax evasion, said: "Today the socio-economic transformation of Castellón begins."
Recommended Reading :
* Castellon Airport slammed for EU26 Mln sponsorship expenses
* Castellon Airport costs Valencia EU 46,300 per day