Earthquake in Lorca, Murcia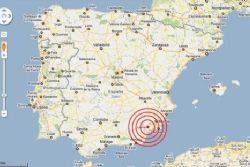 A Seismic event measuring some 2.2 on the Richter scale occurred in the town of Lorca, Murcia, this morning.
The minor earthquake had an epicenter approx 5km to the north of the town, and was registered at a depth of 5km when the event took place shortly after 08.00 local time on Sunday.
Whilst the event was not felt by residents on the surface, and is by no means a significant intensity, the events of May 11th 2011 will still be fresh in the memory of those living in the area.
Must Read :
* Spain and the shame of Murcia
* Murcia Earthquakes "Could happen again soon"