The Yorkshireman introducing Rugby League to Spain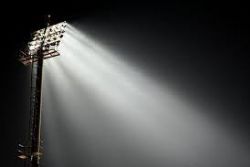 In Spain it's all about football, so why is one Yorkshireman determined to bring rugby league to Madrid?
In the middle of a half-finished housing estate just a short walk from the futuristic City of Arts and Sciences in Valencia, a distinctly northern voice booms across an Astroturf pitch. It belongs to Darren Fisher, the Yorkshireman who has been tasked with not only setting up a Spanish rugby league team but with making them a force to be reckoned with on the international stage within the next few years.
The challenge is undoubtedly a tough one. Here in Spain, football is king, with basketball and handball following a long way behind in terms of popularity. And, while rugby union may well have a healthy following in Catalonia and certain parts of the industrial north, rugby league is virtually unheard of, something Fisher picked up on while holidaying in Murcia not so long ago.
"I remember saying to my wife that it's funny they have no league in Spain. And then, almost as soon as we got home from that holiday, I saw an advert for coaching staff in Spain, and so I got in touch with the AERL (Spanish Rugby League Association)," he explains. "I had initially been planning to maybe move over to Australia and try coaching there, but, speaking with the association here, it just seemed like too good an opportunity to turn down. So, here I am."
Fisher was appointed head coach at the end of last year, a job he juggles with coaching Wakefield Trinity Wildcats and the Yorkshire under-19s. Over the first few months of the year, he regularly made the trip between Wakefield and Valencia to select a core group of players from a pool of around 50 or 60 hopefuls.
"They already knew union, so it's not like they were completely new to the sport," he says.
""And the passion for rugby league among these guys is immense. Most of them know
Wakefield as a Super League club and one of the guys is a London fan, though his girlfriend likes the Rhinos. So we all enjoy a bit of banter on the pitch."
Whether it's the coaching or the post-session banter, the language barrier has yet to prove a problem. Fisher is going to college to study Spanish, though for now, some of his instructions are translated by his bilingual assistant. Plus, he confides, all of his set plays are named after the Spanish for certain fruits, which at the very least is improving his vocabulary for the supermarket.
The goal is to lead Spain to the next Rugby League World Cup, due to take place in 2017. To make the tournament would be a remarkable achievement. However, former Batley Bulldog Fisher is adamant that if 'Los XIII del Toro' do indeed get there, they will do so there fairly and squarely, and without any outside help.
Under the rules of the Rugby League European Federation (RLEF), a player can represent a country if he has been resident there for just 3 years. Given this, isn't Fisher tempted to follow the example of Italy who, at the last World Cup, fielded a team chock full of Australians? After all, there's no shortage of English and Aussie expats living in Spain who'd be only too willing to pull on a foreign shirt if it gave them the chance to be an international athlete.
"No chance," he says defiantly. "Before I accepted the job, I told the AERL my philosophy for this project. Spanish rugby needs to grow from the inside outwards, even if that means we're only taking small steps. So, I'll only pick Spanish players who are based in Spain, even if that means overlooking some former union pros playing in France."
This slow and steady approach to introducing rugby league to Spain is already proving effective. Since Fisher's arrival on the scene, two clubs have been formed in Valencia itself, in addition to two others in Madrid, around three hours' drive away. As Aitor Davilla, general manager of the national side explains, with momentum building a growing number of Spanish union players are having their heads turned and coming over to the league revolution.
"Rugby league es lo mejor," he says. Rugby league is simply the best. "We too have the expression that football is for boys and rugby is for gentlemen. But many of us also feel that league is the best. It's fast, it's exciting and, here in Spain at least, it's something of a novelty still."
Training session over, and the players gather at the side of the pitch for a de-briefing. One by one they leave, but only after making a point of thanking Fisher (or Darén as they call him) for his help. "It's great to have an English expert here helping us develop," says Davilla.
"Darren knows the game better than anyone here, and so we know we are lucky to have him working with us on this project."
Under Fisher's leadership, Spain already boasts a 100% international record, having beaten Belgium home and away at the start of this summer. The goal now is to build on this and, potentially, even join Group C of the RLEF, in which they would play against more established international minnows such as the Czech Republic and Greece.
"Without doubt the passion's here, and all the players want to learn and improve. So who knows what might be possible?" says the boss, as he heads off to join his players for a well-earned cerveza in the Valencian clubhouse.
For more information about rugby league in the south of Spain, contact erl@outlook.es