Euro zone trade surplus rises more than expected in June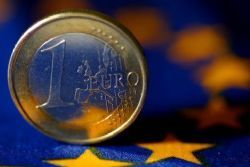 The euro zone's trade surplus grew more than expected in June from June a year ago, data showed on Monday, but the improved surplus does not yet reflect the full effect of sanctions and counter-sanctions imposed by the EU and Russia over the conflict in Ukraine.
The international trade balance of the 18 countries sharing the euro grew to EU16.8 Bln in June from EU15.7 Bln in June last year, as exports rose more than imports. It was up from the EU15.4 Bln surplus recorded in May.
Seasonally unadjusted exports rose by 3.0% during the year to June after being unchanged in May, the EU's statistics office Eurostat said. Imports were up 2.0%, also after being unchanged in May.
On a seasonally adjusted basis, however, exports dropped by 0.5% and imports rose by 0.5% in June from May.
The EU imposed sanctions against Russia in July which took effect in August. Several European leaders objected to the sanctions, calling them a threat to the region's fragile recovery.
Exports had helped drive the beginning of the recovery last year. But fighting between the Ukrainian government and pro-Russia separatists in eastern Ukraine began to have an effect on the euro zone's EU9.6 trillion economy, whose recovery unexpectedly stalled in Q2, even before the sanctions.
Exports to Russia, the euro zone's 4th- and EU's 3rd-largest business partner, fell by 14% and 12% respectively from January to May.
The UK remains the euro zone's key business partner, followed by the United States and China, data for the first 5 months of the year showed.
Among the bloc's 5 largest economies - Germany, France, Italy, Spain and the Netherlands - exports rose year on year only in Germany and Italy in the first 5 months of the year.
Imports were up on the year in Germany and Spain.
Recommended Reading :
* Spain banks borrowed EU160.7 Bln from ECB in July